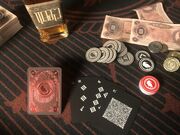 The Crow Club is a gambling house run by Kaz Brekker and the Dregs in Ketterdam's pleasure district, the Barrel. It is located on East Stave near The Slat. It was Kaz's idea to invite ordinary shopkeepers and legitimate businessmen the chance to buy shares in the Crow Club. He was able to purchase the building, spruce it up, and get it running.
Appearance
The Club has a black and crimson facade, a portico with black columns, and an oxidized silver crow with its wings spread above the entrance. The interior of the Club consists of a main hall with card tables and the like and several private gambling parlors, garbed in black and red. The card tables are circular and draped in crimson cloth decorated with a repeating pattern of black Crows. The walls are coated in black lacquer. The Club, like most gambling halls in the Barrel, is windowless to prevent customers from observing the passage of time, leading them to spend more time there.
Community content is available under
CC-BY-SA
unless otherwise noted.