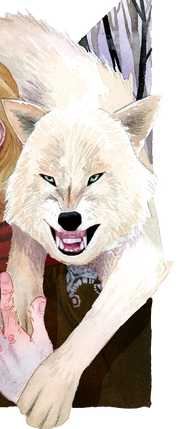 The Isenulf are the white wolves bred to go into battle with the drüskelle. They are said to be larger than normal wolves but highly trained and deadly in a battle against Grisha as they are not affected by Heartrender powers.
History
[
]
The isenulf have been bred by one family near Stenrink for a number of generations. It is a tradition for drüskelle in training to visit the breeding grounds in the Ring of Stones to choose a puppy. Not all drüskelle get an isenulf if there are not enough puppies bred that year. The wolves are paired with the drüskelle as puppies.[1]
If an isenulf is killed, though it is a terrible loss, the drüskelle may train a new wolf if he chooses. If a drüskelle is killed, on the other hand, the isenulf is sent back to the wild, where it roams unaccepted by any pack.[2]
Known isenulf

[

]
References
[
]