Ravka is a nation bordered by Fjerda to the north, Shu Han to the south, and the True Sea to the west.
History
[
]
The nomadic Suli people lived on the land that would become Ravka, Fjerda, and Shu Han.[1]
The territory that would become Ravka was once several feudal provinces, led by kings, which were constantly in conflict with one another. Yaromir the Determined unified the provinces and became the first King of Ravka, founding the Lantsov royal line. However, the young kingdom remained war-torn as it faced invasions from the north and south.[2]
Geography
[
]
The Shadow Fold, also known as the Unsea or simply the Fold, runs from Ravka's northern border to its southern one. Part of the Fold was once known as the Tula Valley.
The Petrazoi are an ice-covered mountain range northwest of Ryevost and Os Alta.[3] To the northwest of the Petrazoi is Tsibeya, a vast area of wilderness just south of the permafrost. Ravka is bordered to the south and east by the massive Sikurzoi mountain range. In the mountains lies a valley on the southern border, Dva Stolba, which has occasionally been part of Shu Han during the Border Wars.[4]
The Sokol River is a major river for commerce,[5] feeding into Alkhem Bay at the major trading port Os Kervo.[6] It later branches into the Obol River.
Climate
[
]
Ravka's climate is cold and it usually snows in winter. Its summers are warm and there is a thick layer of permafrost at its northern border.
Settlements
[
]
Demographics
[
]
Many of the nomadic Suli people live in Ravka, mainly in the northwest. They have historically been mistreated by the Ravkan majority government.[22]
Language
[
]
Culture
[
]
Religion
[
]
Government
[
]
Ravka is a monarchy formerly led by the royal Lantsov family. Currently, it is led by the Nazyalensky dynasty.
Known rulers
[
]
*According to Alina Starkov, Aleksander was a name used by kings. Since Alexander is a variation of the same name, it's possible that the Lantsov dynasty used the name Aleksander and eventually changed it to Alexander.
Coat of arms
[
]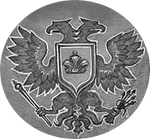 The coat of arms of the Lantsov family is the Ravkan crowned double eagle, grasping in the dexter claw a scepter and in the sinister claw a cluster of black arrows bound by red, blue and purple ribbons.[25]
Military
[
]
Ravka is protected by two armies: the First Army, comprised of Otkazat'sya soldiers, and the Second Army, comprised of trained Grisha.
Behind the scenes
[
]
Ravka is heavily influenced and inspired by Tsarist Russia of the early 1800s.[26]
References
[
]
↑ Rule of Wolves, chapter 3
↑ 2.0 2.1 King of Scars, chapter 9
↑ Ruin and Rising, chapter 13
↑ Ruin and Rising, chapter 5
↑ Siege and Storm, chapter 7
↑ Shadow and Bone, chapter 22
↑ Shadow and Bone, chapter 10
↑ 11.0 11.1 11.2 11.3 King of Scars, chapter 11
↑ Siege and Storm, chapter 11
↑ The Lives of Saints, Sankt Petyr
↑ Siege and Storm, chapter 10
↑ 16.0 16.1 16.2 Siege and Storm, chapter 12
↑ Shadow and Bone, chapter 12
↑ King of Scars, chapter 2
↑ Rule of Wolves, chapter 5
↑ Ruin and Rising, chapter 16
↑ King of Scars, chapter 7
↑ Crooked Kingdom, chapter 28
↑ Rule of Wolves, chapter 33
↑ 24.0 24.1 King of Scars, chapter 22
↑ Siege and Storm, chapter 22