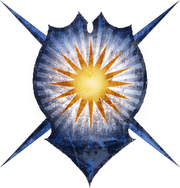 Sun Summoners are Grisha of the Etherealki Order. They have the ability to bend and summon light. They can also summon heat from the sun. Alina Starkov was the original Sun Summoner.
History
[
]
Shadow and Bone
[
]
It is revealed that Alina had been subconsciously suppressing her power when she was tested as a child in Keramzin for signs of Grisha ability. It was as though she knew that if she was found to be a Grisha, she would be taken away from her best friend, Mal. Alina would only later realize that she had been hiding her power when she saved Mal's life in the Shadow Fold.
Because she was the only one of her kind, the Darkling felt a particular connection to her, as he was also the only one with his power, and believed he needed her to balance out his darkness. He then was considered one of Alina love interests for a period of time.
Ruin and Rising
[
]
After using all three of Morozova's Amplifiers, Alina's power transcends herself and is bestowed upon random people around the country (including her Soldat Sol), and perhaps even further. Afterward, Alina loses her ability to summon and bend light. Many of the new Sun Summoners immediately used their newfound powers to destroy the Fold and the Volcra within it.
The new Sun Summoners inherit the task of destroying the Shadow Fold. It is revealed in King of Scars that these new Sun Summoners have retained their powers and are being trained at the Little Palace. Nikolai summons one in the hopes their power could rid him of the demon inside him created by the Darkling.
Known Sun Summoners
[
]
Alina Starkov (former)
Unnamed Sun Summoners created in the battle of the Fold