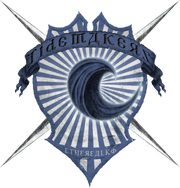 Tidemakers are Grisha of the Etherealki Order who can manipulate water.
In the Second Army, they wear a blue kefta with pale blue embroidery.[1] While training, they usually pair up with Squallers.[2]
"An ordinary Tidemaker can control currents, summon water or moisture from the air or a nearby source." Tidemakers can convert water into ice. This ability is shown by Annika, when she attempts to trap Eryk,[3] and Zoya Nazyalensky, when she lets Genya Safin cross the lake to David Kostyk's pyre.[4]
Under the effects of jurda parem, a Tidemaker can alter the state of matter, including themselves. This is seen when Mikka alters the state of walls in order to pass through them.[5] It also allows a Tidemaker to draw blood out through a red mist, which is seen when Jesper Fahey and Wylan Van Eck fight two Tidemakers at the Ice Court.[6]
Known Tidemakers
[
]
References
[
]